Capacity and Sprint Planning
Description
Details
Gallery
Limitations
FAQ
Reviews
Description
This Template is prepared for Plan your scrum team capacity and optimize your commitment during Sprint Planning.
This is designed for the scrum team, who estimate their capacity in hours, and during sprint planning distribute the story into small subtasks and assign them to team members and validate the team members allocation and estimation is in sync with their capacity.
There are 5 Sheets to capture the information. You will get the details of the sheet from the Details tab. below mentioned the list of Tabs you will,
Definition
Analytics
Capacity
Sprint Planning
Estimation Accuracy
You will 6 different templates as below
9 Member Template (for 2 weeks and 3 Weeks sprint) – Two Template
15 Members Template (1 week to 4 weeks) – Four  Template
Watch the video tutorial from the sidebar to know how to operate the Template.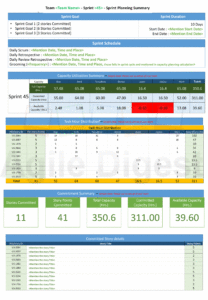 Details
Gallery
Limitations
FAQ
Reviews