Scrum Metrics – Excel Template
Description
Details
Gallery
Limitations
FAQ
Reviews
Description
This Template is prepared to create and manage Scrum Metrics and KPI. See more details below.
Available Metrics

1
Commitment Reliability
Shows the percentage of story points completed against its commitment for every sprint. With Trend record among last 6 completed sprints.
2
Capacity Utilization
Represent the team capacity in hours and committed hours for each sprint, measured in effort hours. With Trends among the last 6 sprints
3
Velocity
Represents a total number of story points completed each sprint, with trend analysis for the last 6 sprints.
4
Velocity Fluctuation
Represents the velocity variance from average with relation to max and min tolerance.
5
Scope Change
Sprint over Sprint, for Last 6 sprints, the amount of story points added to the sprint or amount of story points removed from the sprint, After Sprint Started.
6
Defect Leakage
Amount of Defects detected after development, You can calculate it as defects detected by the development team Vs Defects detected by the Product Owner / or UAT.
7
Effort Estimation Variance
Effort estimated Vs Actual shows Overestimation hours and underestimation hours
8
Backlog Health
Shows the health of backlog in as a total number of Story Points available in backlog Vs Average Velocity (last 6 months). The speedometer shows the current backlog health is below 1 time of Average Velocity, at least 1 time of Average velocity, at least 2 times of average velocity or more than 3 times of average velocity.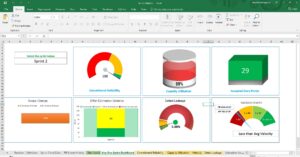 Details
Gallery
Limitations
FAQ
Reviews