We are analyzing present and future demand for goods and services, predicting resource requirements, and creating plans to acquire or distribute resources as necessary are all part of capacity planning. In this regard, the Jira Capacity planning has helped track all the usage of the tools.
It will discuss capacity planning strategies and their impact on the organization's growth. So if you want to know more about the role of capacity planning, then this blog will be appropriate for you.
What Is Capacity Planning?
Capacity planning is the process of determining the production capacity needed by an organization to meet changing demands for its products or services. It involves assessing current capacity, predicting future demand, and identifying any gaps that will need to be filled in order to meet that demand.
The goal of capacity planning is to ensure that the organization has the resources it needs to meet customer demand, while also minimizing waste and inefficiency. This can include factors such as production capacity, inventory, workforce, and equipment.
Planning the Capacity means estimating and calculating the capacity of the Agile team. There are two widely used capacity measurement units.
This is a simple way to calculate the velocity (Average of the last 6 to 10 Sprint's Accepted Story Points). and target the upcoming Sprint to commit the User Story that closely matches the velocity. I recommend the other way of planning capacity by calculating it by Hours. Capacity Planning by Hours
Capacity Planning by Hours:
We personally recommend Capacity Planning by Hours. We will explain only this way of Capacity Planning in this Article. It gives better visibility and accuracy And many other benefits that we will discuss later in this article.
Here we Calculate the available bandwidth of the Agile Team (except PO & SM).
By calculating their available hours for the upcoming Sprint. We will discuss in detail how to calculate it, and what factors
Types of Capacity Planning:
Determine the production capacity a business needs to meet shifting consumer demands for its goods or services through capacity planning. Capacity planning comes in a variety of forms, including:
1. Workforce capacity planning:
Planning for capacity that focuses on controlling and maximizing the utilization of human resources within an organization is known as workforce capacity planning. On the other hand, Jira capacity planning can be used by creating a project or board for capacity planning and adding tasks or issues for each individual or team's capacity.
2. Product capacity planning:
This capacity strategy ensures that your company has the necessary stock of goods or resources to meet deadlines. For instance, a pet shop requires supplies such as food, pet toys, and furniture such as carriers, leashes, and cages. All of these items are necessary to meet demand.
3. Tool capacity planning:
An organization's use of tools and equipment is managed and optimized through capacity planning, called tool capacity planning. It entails estimating and planning the number of tools and equipment required to meet corporate demands.
Capacity Planning Strategies:
There are three types of capacity planning strategies that meet the resource requirements and increase team members' productivity. Those strategies are discussed below.
1. Lag Strategy:
An approach to capacity planning known as the "lag strategy" focuses on reacting to changes in demand after they have already happened. This strategy delays the organization's capacity to alter resources in response to demand changes.
2. Lead strategy:
Organizations with high fixed costs, minimal variable costs, or little demand uncertainty frequently employ the lead strategy. It may be helpful when demand is predictable or when modifying resources in advance of changes in demand is inexpensive.
3. Match strategy:
A capacity planning method known as a "match" focuses on matching the organization's capacity to the degree of demand. This strategy entails anticipatorily altering resources to meet the anticipated demand.
When We Should Do Capacity Planning:
Planning for capacity is important and necessary whenever you want to ensure supply and demand are balanced. Thus, capacity planning is a good idea and a general rule to follow, whether for a week, month, quarter, year, or longer. Capacity planning is helpful to ensure future availability. It is also beneficial to develop the workforce and resources.
With Scrum Master's facilitation, A Scrum Team can identify the capacity before the sprint planning. The best time is just before the Sprint Planning for any specific Sprint, which gives the best visibility of Resource's vacation plan or Ceremony time. If the Team is using any ALM tool, the Individual team can update their available time, Scrum Master can help the team understand how to calculate their Individual Capacity. 
Before hitting the Sprint Planning, the Scrum Master can conduct a quick 30 min meeting with the team and get the Capacity Calculated and Update accordingly.  When I was a Scrum Master, I used to calculate all the factors in Excel initially with the team 1 or 2 days before Sprint Planning, and eventually, the team was mature enough to do that on their own with very minimal intervention.
How To Do Capacity Planning (In Hours):
The technique is very simple to calculate & plan your capacity. I have explained below the steps to calculate it manually. However in today's days, all major popular ALM tools have that inbuilt, You just need to feed in the details.
At the end of this article will show examples of doing Capacity Planning in one or two ALM tools.I have explained below step by step what you can follow to do your capacity planning, even if you are not using any ALM tool, just by maintaining an Excel.
Step 1 – Calculate Sprint Duration:
Calculate the Sprint Duration in Days, Identify the Sprint Start Day and End Day. To explain this I have taken a 2 Week Sprint which Starts on Wednesday and Ends on Tues day. And we are doing our Capacity Planning for Sprint.
The picture on the right Represents a 2-week Sprint – a Calendar, of 10 days.  Spread in three Physical Calendar Weeks. Throughout the rest of the article, I will explain these color legends, where Yellow = Previous Sprint Green = Current Sprint (for the Sprint we are doing the Capacity Planning) Blue = Future Sprint.
Step 2 – Calculate Team Member's Availability:
Assuming We have 7 Members team 4 developers and 3 Testers, Not Counting the SM and PO here, as we don't need to count their capacity in Capacity Planning.
Step 3 – Identify Allocation:
Now Identify the Shared resource if any, If there is No shared resource, we will count everyone as 100% allocated to this Scrum Team. For example, let's assume we have one Tester (Tester 3) who is shared between two teams, and his allocation is 50% for this team in the example.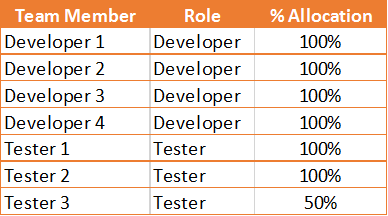 Step 4 – Calculated the Standard Hours Per Day:
If we assume everyone has 8 hours per day on full allocation, The Shared resource will have 4 Hours per day allocated for this team. For this sprint. For 10 Days Sprint the total Max capacity is 520 Hours for the entire Team and 52 hours per day, Including Shared Tester. Everyone has 80 hours for 10 days and the Shared Resource with 50% allocation has 40 Hours, for this sprint Duration.
Now let's see how does that looks like in our calendar.
Step 5 – Consider the Factors:
Team Holiday:
Mark the date that is off for the entire team. National Holidays etc.
Calculate The Individual Working Off:
1. Calculate Based on – if any resources have been planned off / out of office.
Override default working day hours.
If Required – Take an exception for an individual team members, to change default hours from 8 Hours to something else, especially
If someone has a plan half-day or the plan hours have other than the default 8 Hours (100% Allocation)


Assuming – the 9th of Jan is a Team Holiday In this case: we can see from this picture, that the total and Individual capacity is reduced accordingly.

Assuming – Developer 1, Developer 2, and Tester 1 have a Planned full day off for three different days. By applying that we can see from this picture, that the total and Individual capacity is reduced accordingly.

If Developer 3 plans a Half-day of work on 13th Jan. The planned capacity will change accordingly as below

Step 6 – Consider Other Works:
That eats up Time for everyone Consider the Time it will take for other meetings and Agile Ceremonies. The below picture represents the typical time a Teams Spends at each ceremony and other meetings

Reduce 12.33 Hours from the Capacity

Step 7 – Consider Focus Factor:
Plan it accordingly so your team can focus on any unplanned time loss keeping in mind the daily time off, Ad hoc unplanned meetings, other official activities, training, Discussion with SMSs, etc.  Remember for a planned activity you can still calculate beforehand. We keep the focus factor for anything that cannot be planned. That value can vary from 75% to 95%

So, The Final Capacity for This Team for Sprint 2 Is 318.32 Hours:
Summarizing the 7 Steps in one place,
Step 1 Calculate – Sprint Duration
Step 2 List Down Team Members
Step 3 Calculate Team member Allocation
Step4 Calculate – Standard Working Hours Day
Step5 Consider the Factors Team Holiday Individual planned vacation Individual Partial off day
Step 6 Calculate Ceremony Time and other work
Step 7 Calculate Focus Factor
Please Note: The Values, Percentage, and number of hours are for the above example only. You need to put values based on your own needs and facts.
Calculate the Focus Factor that best suits your project.
Sprint Duration as per your Sprint Cycle
Plan it for Developers/ Tester and any other Role in your Scrum team (except SM and PO)
Team members allocation as actual in your team
Factors like Team Holidays, Planned Vacations, and parts are not just limited to these three factors.
Calculate the Times of Ceremonies as per your schedule in addition to any other planned meeting
In The above example, I have not calculated the vacation day as falling under any ceremony day, to avoid complications and granular level calculation.
Are you a professional who is aspiring to be a Certified ScrumMaster? Then check out the ESM certification course now.
Benefits Of Capacity Planning:
Capacity Planning helps the team to gauge the available bandwidth for the team to commit and complete User stories. Especially when you estimate your capacity by hours and map tasks of committed user stories with the Individual capacity and his/her assigned estimated task hours.
The team can identify the limit of committing User Stories in Sprint Planning. We will discuss more in detail how we map our tasks and capacity during Sprint Planning, in a different article on Understanding Sprint Planning.
The reason why I always prefer Capacity Planning and Mapping on Hours Rather than Velocity is, Its easy to calculate available Hours by simply math with Days, Vacation, Leave, Other Time, Focus Factor, etc. to get a Team Capacity.
That is technically not possible with Velocity and the team needs to make assumptions that are dangerous, Secondly, you cannot assign a Story (having Story points) to a single member, as completing a story is mostly a team effort.
And distributing any story points between team members, Huh!! Can't even think about it, where One Story (whatever the story point is) can have multiple tasks (each task having efforts estimated in Hours) that can easily be assigned to one or more Team Members, each task can be assigned to each member. We will see more in detail with a demonstration in a different article on Understanding Sprint Planning.
What Does a Capacity Planning Tool Do?
Using a capacity planning tool, you may predict your future resource needs and allocate resources when they are needed most. The role of capacity planning is discussed below.
It analyzes resource usage.
It helps to forecast the demand
It is beneficial for optimizing resources
It helps to visualize and report the capacity demand
An organization can better plan and manage its resources by using a capacity planning tool, which helps them ensure the Jira Work Management's Reports.
Capacity vs Resources Planning:
Resource planning and capacity planning are connected but different ideas with various objectives and target areas.
Capacity Planning:
The basic goal of capacity planning is to identify a business's production capacity to meet shifting consumer demands for its goods or services. Demand forecasting, resource utilization analysis, bottleneck detection, and resource optimization are part of it.
Resources Planning:
On the other hand, resource planning is primarily concerned with discovering, obtaining, and allocating the resources required for an organization to carry out its objectives and operations. This refers to both material resources.
Capacity Planning Best Practices:
There are a few best practices of capacity planning that help to increase the demand and are also good for Capacity planning in Jira. Those best practices of capacity planning are discussed below. 
Evaluate and update demand predictions frequently: In order to keep their demand forecasts accurate and current, organizations should frequently review and update them.
Communicate and work together across departments: Coordination and cooperation between several departments, such as production, sales, and marketing, are necessary for effective capacity planning.
Examine and update plans frequently: Organizations should periodically review their capacity plans and adjust them as appropriate. In this case, Jira Software has been involved, which helps to manage the workflow. 
Become A Master Capacity Planning Today:
Learn more about capacity planning by enrolling in the Agile Digest Efficient Scrum Master (ESM) certification training course.
This course will help you develop your skills and knowledge for good future opportunities. Moreover, this course is also important to guarantee the scrum team conforms to the actual Scrum approach throughout a project.